PETA's Radical Agenda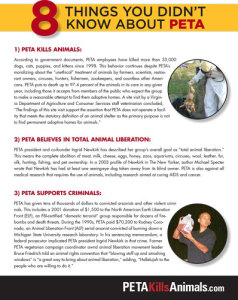 Click to download our new infographic that showcases some of PETA's despicable actions and tactic that you may not have known!
Ingrid Newkirk: Radical Animal Liberation Activist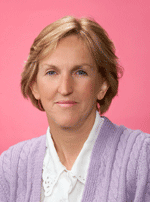 Ingrid Newkirk isn't just the President of PETA, she's also a militant activist. She's soaked herself in fake blood, of course, but she's also been arrested more than 20 times. And she's an avowed supporter of the terrorist Animal Liberation Front.
Newkirk wrote a book called Free the Animals! The Untold Story of the U.S. Animal Liberation Front and Its Founder, 'Valerie.' In it she writes that she has "become somewhat used to jumping on a plane with copies of freshly purloined documents and hurriedly calling news conferences to discuss the ALF's findings." In 1993, Newkirk arranged an interview for TIME magazine with "Valerie." Later, the animal-rights movement would be abuzz with speculations that Valerie was just one of Newkirk's PETA employees. The entire episode has suggested what many federal law enforcement officers have openly speculated: that ALF and PETA may be populated with identical personnel, the only difference being a setting sun and a ski mask.
Newkirk gives interviews to ALF's publications, supports the legal defense efforts of ALF criminals (with PETA's money), has been subpoenaed in regard to her ALF connections, and has even been accused in court documents of participation in the ALF arson of a Michigan State University research lab.
In the 1970s, Newkirk worked for Montgomery County (Maryland), and then for the District of Columbia, as an animal protection officer and deputy sheriff, before becoming DC's first female poundmaster in 1978. She co-founded PETA in 1980 with established animal-rights activist Alex Pacheco. Since then, PETA and Newkirk have become synonymous. Former employees refer to PETA as "the cult of Newkirk."
PETA opposes testing medications on animals, even if they could lead to a cure for AIDS.
PETA President Ingrid Newkirk told Vogue that "Even if animal tests produced a cure for AIDS, we'd be against it."
PETA made a $5000 cash payment to Josh Harper, a leader of Stop Huntingdon Animal Cruelty, a violent extremist group that intimidated, threatened, and attacked people affiliated with a medical research facility
The head of the anti-animal testing animal rights group the Physicians Committee for Responsible Medicine (PCRM) was formerly president of The PETA Foundation.
PETA awarded a grant of over $70,000 to Rodney Coronado, who was then accused and later convicted of arson against a Michigan research facility.
PETA solicited volunteers to infiltrate facilities as "behind-the-scenes heroes for the animals
"Ethical Treatment" is Optional for PETA's Celebrities.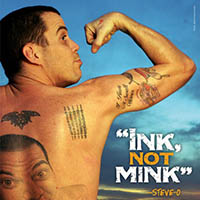 These celebrities are PETA activists, but have shown flexibility with the organization's forceful call for strict vegetarianism, also known as veganism.
Pamela Anderson's Dodge Viper (auctioned to benefit PETA) had a "luxurious leather interior."
Jenna Jameson was photographed fishing, slurping oysters, and wearing a leather jacket just weeks after launching an anti-leather campaign for PETA.
Morrissey got an official okay from PETA after eating at a steakhouse.
Dita von Teese has written about her love of furs and foie gras.
Steve-O built a career on abusing small animals on film.
The officially "anti-fur" Eva Mendes has worn fur anyway.
PETA's Religious Nonsense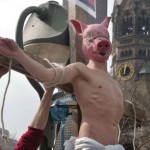 PETA's religious campaigns include a website that claims–despite ample evidence to the contrary–that Jesus Christ was a vegetarian. PETA holds protests at houses of worship, even suing one church that tried to protect its members from Sunday-morning harassment. Its billboards taunt Christians with the message that hogs "died for their sins."
PETA insists, contrary to centuries of rabbinical teaching, that the Jewish ritual of kosher slaughter shouldn't be allowed. Its infamous "Holocaust on Your Plate" campaign compared the Jewish victims of Nazi genocide to farm animals.
Want to see more? We issued a report in 2005 that comprehensively debunked PETA's religious campaign literature.
PETA has killed tens of thousands of animals since 1998 and we're making sure the whole world knows. Have a tip or something else we should know? Get in touch on our
contact page
.